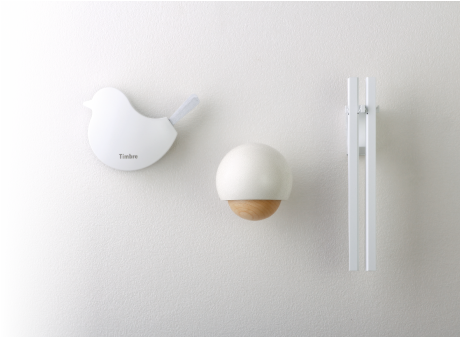 Timber's first product is now set to be a door chime,
ready to welcome you home with a sound system designed
to bring relaxation and comfort.
Gentle sound welcomes a guest…
"Timbre" chimes when a family member arrives home…
Even though the door chime plays various roles,
we focus on the purpose that "Timbre" helps people to reboot
one's mind with gentle sound when they open the door.
We would like to present you something special moments,
like breeziness, relaxation and comfort.
---
Timbre Door Chime Series

ああああああ
Our Fire-tongs wind chime style sound system utilizes a solid aluminium bar to ensure a high quality and clear sound.
The name 'Bo' comes from the Danish word meaning 'home'- our product fitting neatly in with the rhythm of your every world.
Size:約W28.5×H160×D53mm
Weight:約200g
Material:本体:亜鉛ダイカスト/棒:アルミ
Magnet:ネオジウム φ15×5mm 2個
付属:非鉄扉用プレート (Size:t1×W22.5×H40mm/Material:鉄/両面粘着テープつき)
---
Suggested retail price:3,800円(税込3,990円)
---
Method of mounting: magnet
Most doors of Japanese condominiums are made from iron, so that 'Timbre' is easy to apply. When your door is made from other materials, please use the attached iron plate.
To hear a sample of our "Bo" door chime, please click here.
---
カタログダウンロード
Product Manual(PDF)をご覧いただけます。
掲載されておりますカタログの内容は、製品の仕様など予告なく変更される場合があります。
印刷物が必要な方は、「Contact」のページよりご請求ください。その際、差し支えなければご利用方法などもご記入ください。
(在庫状況により、すぐにご用意できない場合があります。)